Quality Defect - 2019 Obsession Symphony - 12 Pack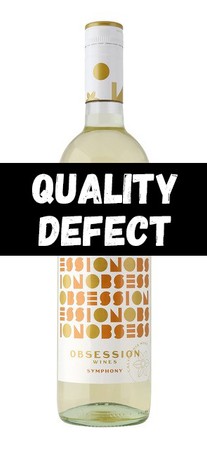 IRONSTONE WINE CLUB MEMBERS ONLY!
This bottle has cosmetic damages (i.e. label folds, wrinkles or tears). The wine itself has not been compromised.
PLEASE NOTE: THIS WINE IS ONLY SOLD BY THE CASE AND IS NOT AVAILABLE FOR PICK UP.
SPECIAL SHIPPING RATES APPLY:
California - $10 FLAT-RATE
Rest of US - $15 FLAT-RATE
NEW LOOK - SAME GREAT WINE!
Not to worry, the wine hasn't changed, just the packaging.
What's Your Obsession? This Is Ours.
Obsession Symphony is a seductively aromatic wine with captivating aromas of gardenia, honeysuckle and star jasmine. Think flavors of peaches, pineapple, honeydew and a hint of ginger, finishing crisp and clean.
Product Reviews
Denise Hiatt
(Jul 12, 2021 at 7:28 PM)
Love this wine! This is the only white wine we drink?
Christopher Redding
(Jul 28, 2021 at 2:00 PM)
We ordered a case when this came out July 6th. Ordering 2 more cases today. You have to look really hard to find any defects with the labels. No defects with the wine for sure....