Mixed Case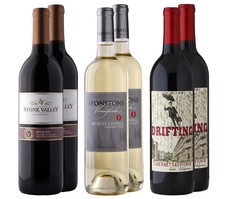 2014 Limited Release Muscat Canelli - Winemaker Notes:
Our Muscat Canelli is made in a traditional style electing to portray the incredible floral characters of orange blossoms, gardenia, jasmine, rose petals, spring wildflowers and a touch of lychee nut in the nose. Fresh apricots, tangerines, and peaches dominate the luscious texture on the palate. This dessert-style wine has a rich and long finish that is clean and refreshing.
2015 Drifting Wines Cabernet Sauvignon - Winemaker Notes:
Black currants, raspberry, and dark cherry flavors find themselves soaring amongst the toasted oak that produce this smooth and flavorful Cabernet Sauvignon.
2014 Stone Valley Red Blend - Winemaker Notes:
This Red Blend has vibrant dark red and purple color, followed by aromas and flavors of dark berries, mocha and spice. The finish is rich and flavorful.