L'uva Prima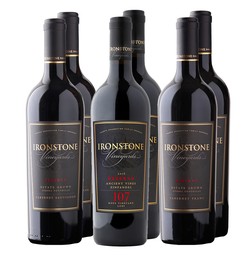 Reserve Cabernet Franc
Our Reserve Cabernet Franc is an elegant, rich yet soft wine. With fleshy black cherry, blackberry and spicy oak aromas this seductive Cabernet Franc is worth drinking now or cellaring for a special occasion. Succulent, dark fruit flavors of plum, black cherry with a hint of sweet oak fills the palate and gives way to a smooth, medium finish.
Reserve Cabernet Sauvignon
Seductive and full-bodied, our Reserve Cabernet Sauvignon exudes aromas of fresh berries, black currants and black cherries that are laced with eucalyptus, cedar, and mint. Big and powerful, yet elegant, this Cabernet exhibits flavors of sweet dark blackberry and plum with soft, creamy vanilla that plays well with the unique mineral qualities found only in wines produced in the Sierra Foothills.
Reserve Ancient Vine Zinfandel
Grapes grown on these 107 year-old vines produce "Ancient Vine" Zinfandel that displays seamlessly unforgettable characteristics. Multi-dimensional in aromas and flavors, this generously rich Zinfandel offers plush aromas and flavors of ripe blackberries, brown spices, clove, caramel and slight vanilla, finishing with well-rounded tannins and a lingering dark, fruit finish.