Ironstone Candle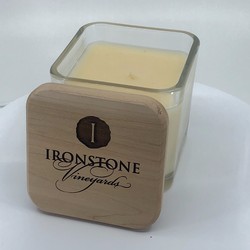 Burn Time - 60 hours, approximately
* To ensure a clean and long burn time, always trim the wick to 1/4" or less before every lighting.
Allure - Seductive, romantic and exciting, this is a date night in a candle. Warm Bergamot blends with notes of toasted vanilla bean, sandalwood and Egyptian musk.
Scent Notes
Top: White Carnation, Blood Orange
Heart: Black Rose
Base: Vetiver, Egyptian Musk
---
Coastal Breeze - A brisk morning walk with the sun breaking through a coastal fog. Layered notes of sea salt, kelp, sun-weathered driftwood, and a hint of water lily.
Scent Notes
Top: Citrus
Heart: Seashore
Base: Violet
---
Grapefruit & Mangosteen - Subtle citrus notes, naturally derived sweetness with a hint of peach. A perfectly luxurious and freshly exotic scent.
Scent Notes
Top: Red Grapefruit, Tangerine
Heart: Peach Blossom, Green Apple
Base: Sugar Water, Berries
---
Ignite - Ignite your senses with a summer beachside bonfire. Dig your toes into the sand while toasting marshmallows with friends and family. Clove, sandalwood and warm vanilla round out this inviting scent.
Scent Notes
Top: Heliotrope
Heart: Pine, Cedar
Base: Smokey Sandalwood, Vanilla
---
Jasmine & Honeysuckle - A Southern Belle of a scent. This charming and flirtatious blend is bright and lively with just the right amount of softness and warmth. A floral work of art.
Scent Notes
Top: Lily of the Valley
Heart: Neroli, Rose
Base: Honey
---
Oakmoss & Sandalwood - A romantic blend of oakmoss and sandalwood with amber, sage and subtle undertones of damask rose. This grounded, luxurious scent is one of our most popular.
Scent Notes
Top: Fresh Herbs, Bergamont
Heart: Rose, Oakmoss
Base: Sandalwood, Amber, Tonka Bean
---
Orange Blossom - A lush, smooth aromatic fragrance for spring or summer. Orange Blossom will transport you to a garden oasis with its balance of sweet warmth and fresh citrus.
Top: Bergamot
Middle: Jasmine, Neroli
Base: Sandalwood
---
Pumpkin Chai - Savor this delicious fragrance of the harvest season. It's your favorite latte, pie, cookie and so much more.
Scent Notes
Top: Almond, Clove
Heart: Cinnamon, Nutmeg
Base: Vanilla, Maple
---
Rainy Day - This is the ultimate bundled up weather candle. Cozy vanilla bean, crisp white grapefruit and a fresh blend of lily, jasmine and tuberose.
Scent Notes
Top: White Floral
Heart: Jasmine, Violet
Base: East Indian Sandalwood
---
Red Ginger & Saffron - Transport yourself to an exotic place with this rich and spicy candle. Crisp ginger and lemongrass are infused with the richness of saffron patchouli and cardamom.
Scent Notes:
Top: Ginger, Saffron
Middle: Cardamom, Ginger Flower
Base: Patchouli, Sandalwood
---
Teak & Bamboo - Rich and earthy teak and bamboo are enhanced by hints of amber, clove and vanilla. A perfect balance of feminine and masculine.
Scent Notes
Top: Violet
Heart: Cumin, White pepper
Base: Teak, Cashmere, Sandalwood
Product Reviews