Holiday Cabaret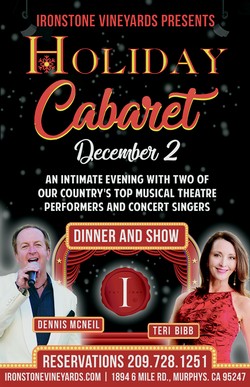 For 25 years, Dennis McNeil has wowed audiences around the globe, and now the famed singer will be heading to Ironstone Vineyards to do the same. From the historic opera houses and concert halls of Europe to the famed Metropolitan Opera and City Halls and Capitals, Dennis has quite the resume. Known for his versatility, Dennis has serenaded five US Presidents, countless dignitaries and foreign heads of state as well as performed with the Grateful Dead, Lionel Ritchie, and Steve Miller.
For those yet to see Dennis live, the famed singer blends beautiful vocals with a warm Irish charm. His versatility, stage presence, and ability to connect with his audience, all combine to create an immense talent -- the show on December 2nd should be stellar.
But wait, there's more...
Performing alongside Dennis McNeil will be Broadway star, Teri Bibb of Phantom of the Opera. This is not the first time they've come together for a special performance. They were personally invited by President Bush to perform at his Presidential Inauguration. Together they sing duets from West Side Story, Phantom of the Opera, Les Miserables, Kismet, Showboat, and many more.
Doors open at 5:00 p.m. Dinner is served a5:30 p.m. The show starts at 6:30 p.m.