Throw Down in the Vineyards
| | |
| --- | --- |
| Date: | Sat, Oct 17, 2020 |
| Time | 10:00 AM to 5:00 PM |
| Venue: | Ironstone Vineyards |
| Contact: | Ironstone Vineyards |
| Phone: | 2097281251 |
| Email: | info@ironstonevineyards.com |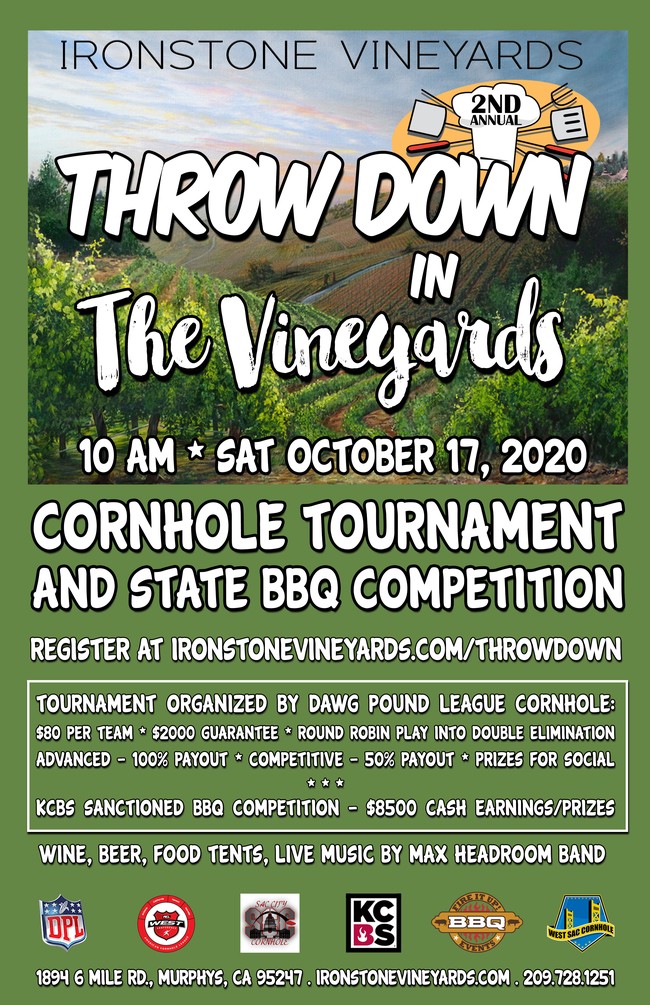 Doors open at 9:30am - $5 spectator fee (welcome to bring their own lawn chair or blanket)
Bags fly at 10:00am for Cornhole, ends around 4pm
Taste of BBQ begins at 10:00am - some competitors will have a la carte items for sale. Winners announced at 5pm.

$8,500 cash payout for BBQ competition
$2,000 cash payout for Cornhole competition

Cornhole Tournament Info:
The Cornhole Tournament is "Round Robin" play.
Each team will be randomly placed in a pool. A pool is made up of 6 teams. The top 3 teams from each pool will go to an "Advanced Bracket" (Double Elimination). The next 2 Teams will go to a "Competitive Bracket" (Double Elimination). The last place team will go to the "Social Bracket" (Single Elimination).