Silent Movie - The Thief of Baghdad
| | |
| --- | --- |
| Date: | Sat, Feb 29, 2020 |
| Time | 5:00 PM to 9:30 PM |
| Venue: | Ironstone Vineyards |
| Contact: | Ironstone Vineyards |
| Phone: | 209-728-1251 |
| Email: | info@ironstonevineyards.com |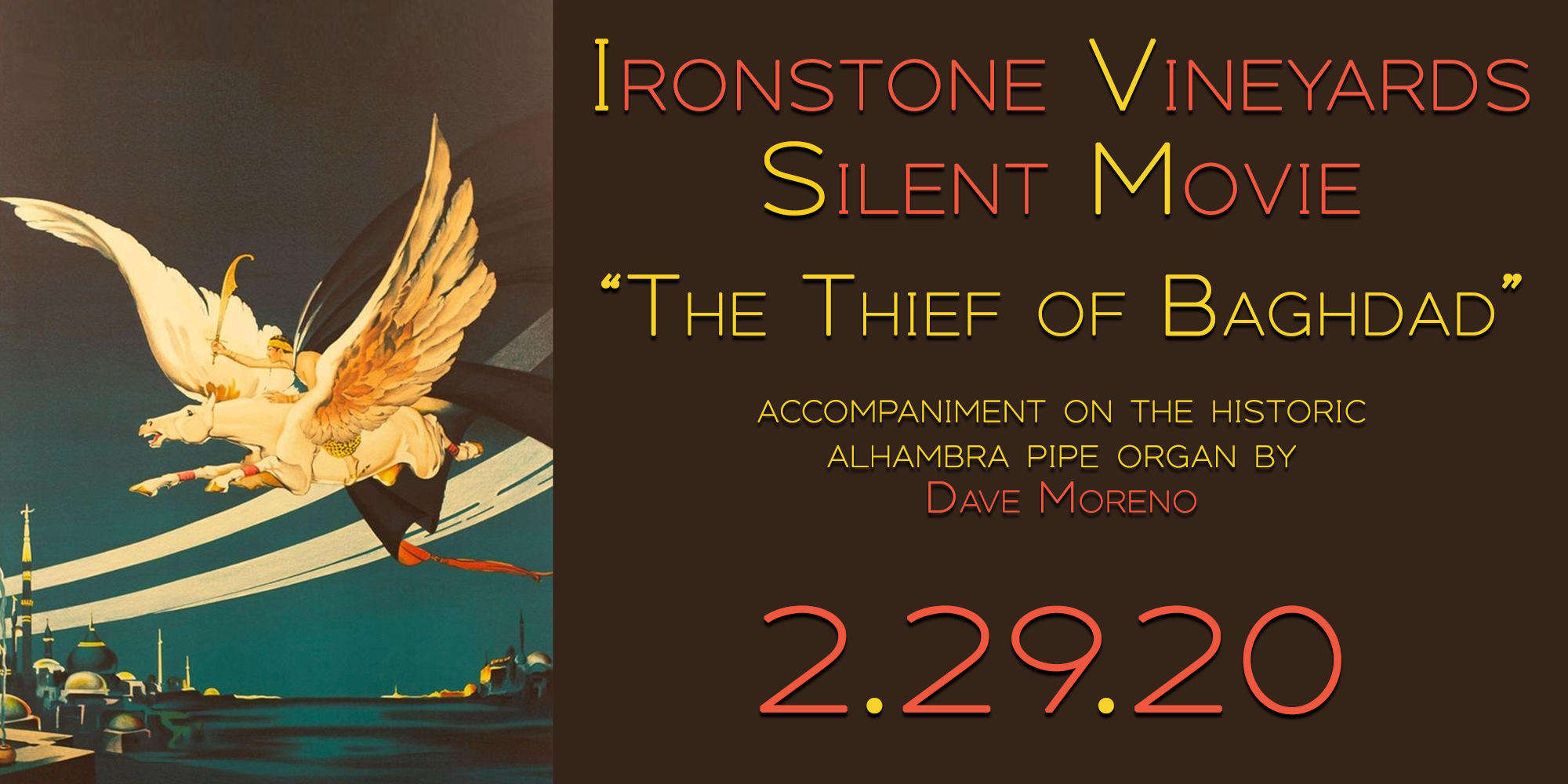 SILENT MOVIE NIGHT
About "The Thief of Baghdad"
The Thief of Bagdad is a 1924 American silent swashbuckler film directed by Raoul Walsh and starring Douglas Fairbanks, and written by Achmed Abdullah and Lotta Woods. Freely adapted from One Thousand and One Nights, it tells the story of a thief who falls in love with the daughter of the Caliph of Baghdad.
The Thief of Bagdad is now widely considered one of the great silent films and Fairbanks's greatest work.
Fairbanks biographer Jeffrey Vance writes, "An epic romantic fantasy-adventure inspired by several of the Arabian Nights tales, The Thief of Bagdad is the greatest artistic triumph of Fairbanks's career. The superb visual design, spectacle, imaginative splendor, and visual effects, along with his bravura performance (leading a cast of literally thousands), all contribute to making this his masterpiece."
Featuring Dave Moreno on the Alhambra Pipe Organ.
Menu:
Toasted naan bread & hummus
Mixed greens with English cucumber, pickled onion, marinated tomato, asiago and lemon-poppyseed vinaigrette
Saffron basmati rice
Beef & chicken kabob with grilled vegetables
Vegetable kabob
​Kelecha - (sweet chocolate & dried fruit pastry)
Tickets: $40 - Includes dinner, dessert, popcorn, and show
Doors at 5pm, Buffet at 5:30pm. Show at 6:30pm
Limited seating available. This event will likely sell out.