Complimentary Public Tour available all year Wednesday – Sunday at 1:30pm. Guests meet in the Tasting Room. Tour generally lasts about 45 minutes.
February 2019
Presidents' Day Weekend
11:00 AM to 5:00 PM
Sat, Feb 16, 2019 - Sun, Feb 17, 2019
Venue:
Ironstone Vineyards
Contact:
Calaveras Winegrape Alliance (209) 728-9467,
info@calaveraswines.org

The 23d annual Presidents' Day Wine Weekend sponsored by the Calaveras Winegrape Alliance (CWA) will take place Saturday, February 16th and Sunday, February 17th from 11 a.m. -5 p.m. Presidents' Wine Weekend is an opportunity for wine lovers to taste their way through Calaveras County by purchasing a $25 commemorative glass and visiting over 22 participating wineries and tasting rooms while enjoying free limited-tasting flights of numerous award-winning wines and exciting varietals offered by the best of Calaveras County's craft wine community. Full tastings will be available in each tasting room for an additional fee with many participating wineries and tasting rooms offering live music, light bites and food samples as well as special offers on wine purchases. Visitors to Calaveras County wine region will find plenty of warm welcomes and hospitable spirit within our tasting rooms as they welcome participants to this highly anticipated two-day event.
Advance purchase of tickets are now required with a LIMITED quantity of glasses and passes being offered on Saturday and Sunday. Glasses can be purchased for $25 per day or $40 for a two-day pass. You simply won't be able to taste at all the wineries in one day, so book your reservations now at one of our charming hospitality partners and plan on taking your time to experience all that Calaveras has to offer!

Purchase your passes now HERE and select Ironstone Vineyards as your pick-up location. Then when you arrive the day of we'll be waiting for you with your wine glass and wristband!
Ironstone Vineyards will also be offering pre-ordered lunches and barrel tasting!
LUNCH
Skip the wait this year and add on an Ironstone lunch option to your Presidents' Wine Weekend glass purchase!
Ironstone Vineyards will be offering your choice of a pulled pork sandwich with a side of potato salad and a bag of chips or vegetarian lasagna with garlic bread, and a fountain drink for only $15.

ORDER YOUR SATURDAY LUNCH ORDER YOUR SUNDAY LUNCH
BARREL TASTING
Interested in an additional wine experience for Presidents Wine Weekend? Add a barrel tasting to your glass purchase for only $5.
RESERVE YOUR SATURDAY BARREL TASTING RESERVE YOUR SUNDAY BARREL TASTING
For more information about Presidents' Day Wine Weekend call Calaveras Winegrape Alliance at 209-728-9467or email info@calaveraswines.org
Silent Movie - Charlie Chaplin in "The Gold Rush"
5:00 PM to 8:00 PM
Sat, Feb 23, 2019
Venue:
Ironstone Vineyards
Contact:
Ironstone Vineyards 209-728-1251 ex 10,
info@ironstonevineyards.com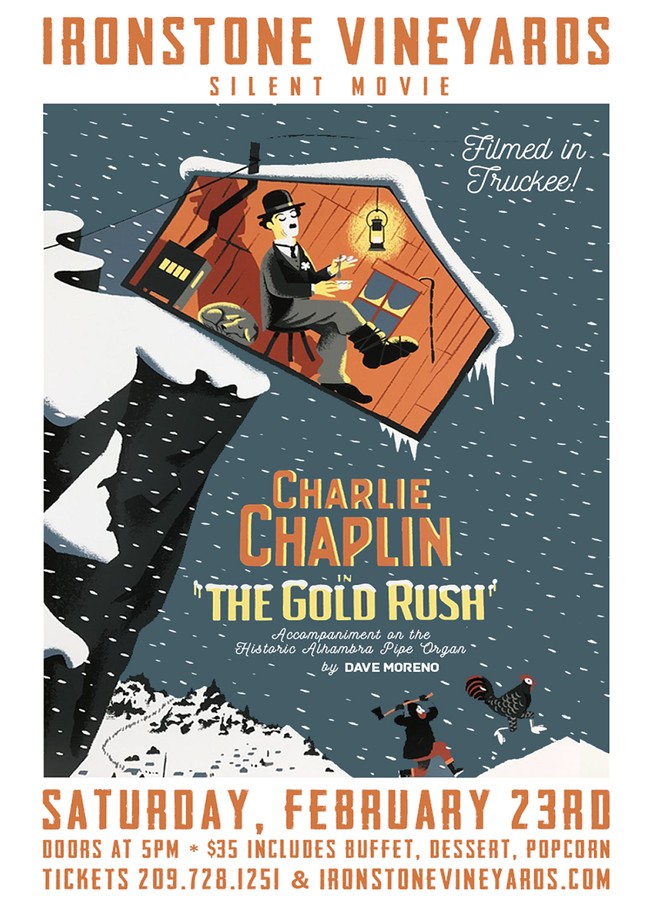 SILENT MOVIE NIGHT IS BACK!
About "The Gold Rush"
In this classic silent comedy, the Little Tramp (Charles Chaplin) heads north to join in the Klondike gold rush. Trapped in a small cabin by a blizzard, the Tramp is forced to share close quarters with a successful prospector (Mack Swain) and a fugitive (Tom Murray). Eventually able to leave the cabin, he falls for a lovely barmaid (Georgia Hale), trying valiantly to win her affections. When the prospector needs help locating his claim, it appears the Tramp's fortunes may change.
Featuring Dave Moreno on the Alhambra Pipe Organ.
Tickets: $35 - Includes gold rush dinner, dessert, popcorn, and show
Doors at 5pm, Dinner at 5:30pm. Show at 6:30pm
Limited seating available. This event will likely sell out.
March 2019
Spring Obsession Art Show
Sat, Mar 2, 2019 - Sun, Mar 3, 2019
Venue:
1894 6 Mile Road, Murphys, CA 95247
Contact:
Ironstone Vineyards 209-728-1251,
info@ironstonevineyards.com
Click here for submission information and applications.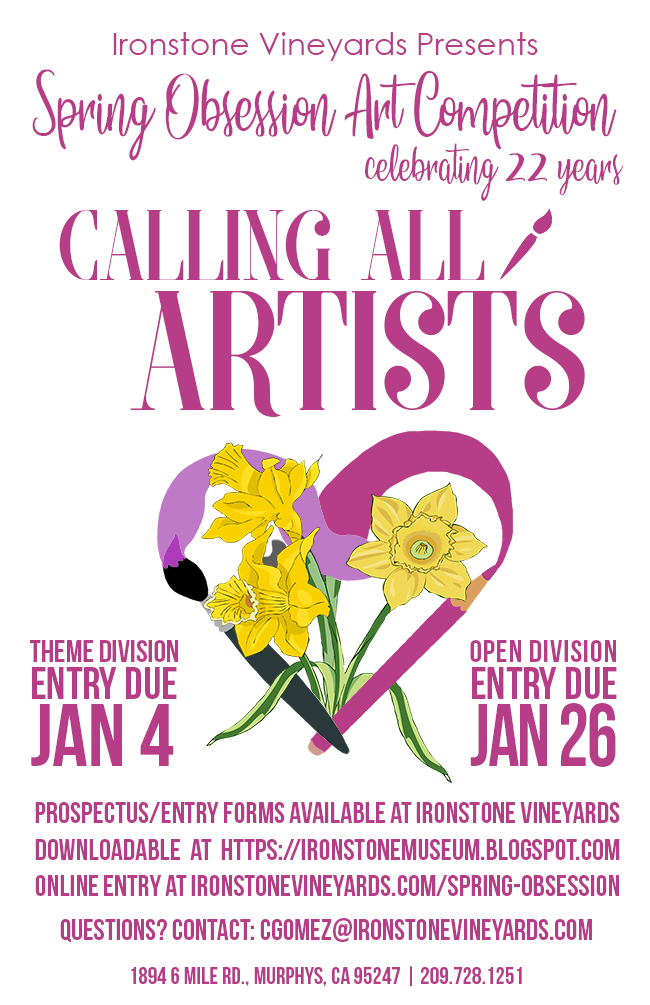 Spring Daffodil Show
Sat, Mar 9, 2019 - Sun, Mar 10, 2019
Venue:
1894 6 Mile Road, Murphys, CA 95247
Contact:
Northern California Daffodil Society - Bob Spotts (925) 625-5526,
robert_spotts@comcast.net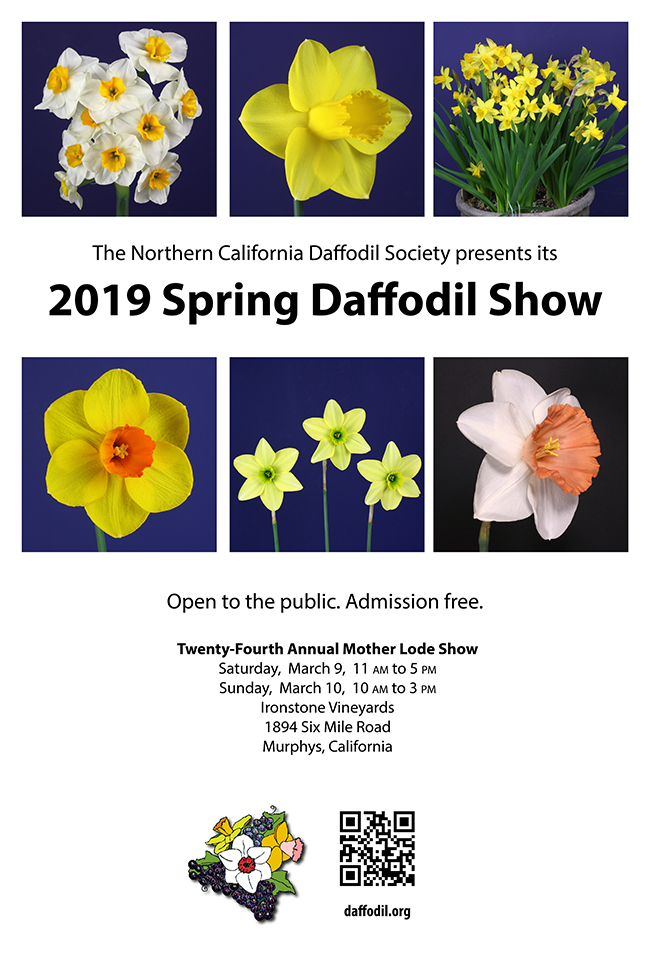 The 2019 Spring Daffodil Show is brought to you by the NCDS and the Calaveras County Garden Club. On the country road to Ironstone Vineyards, you will marvel at thousands of naturalized daffodils blooming along the roadside and across the landscape. At the winery itself, you'll be greeted by spectacular barrels of brightly blooming daffodils. The show will display captivating daffodil exhibits in horticulture, artistic design, and photography.
The horticulture portion of the show will be held in the Heritage Room (below the Heritage Museum & Jewelry Shoppe).
For additional information, contact Bob Spotts at (925) 625-5526, or visit daffodilusa.org
April 2019
May 2019
June 2019
Throw Down in the Vineyards
Sat, Jun 1, 2019
Venue:
Ironstone Vineyards
Contact:
Ironstone Vineyards 2097281251,
info@ironstonevineyards.com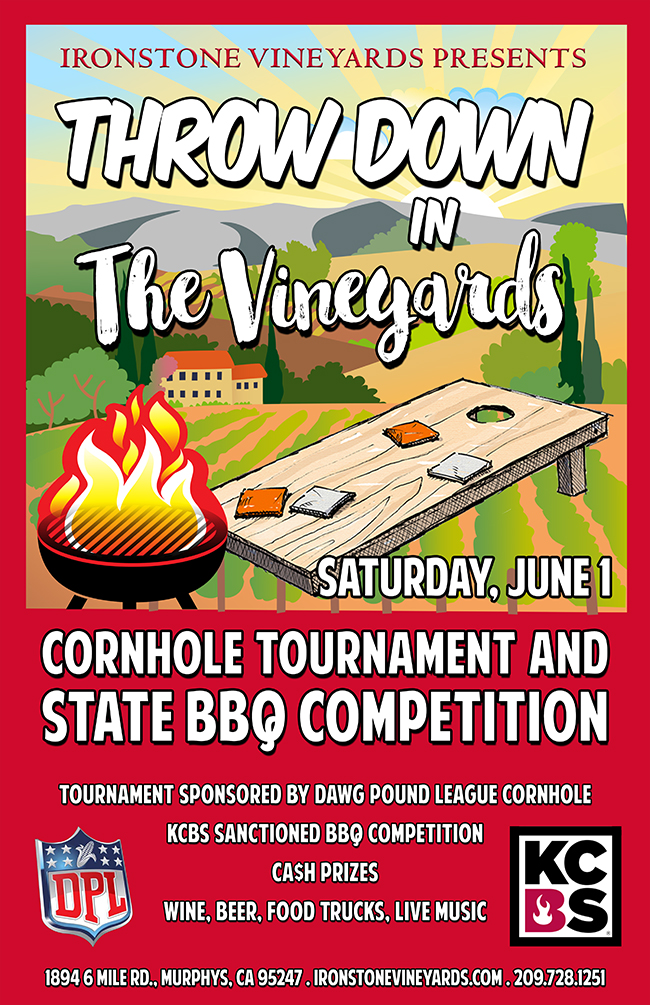 Details to come soon!
July 2019
Independence Day Celebration + Fireworks
Sat, Jul 6, 2019
Venue:
1894 6 Mile Road, Murphys, CA 95247
Contact:
Ironstone Vineyards 209-728-1251,
info@ironstonevineyards.com
Mark your calendar for THE MOST amazing fireworks display around!
Gather your family and friends for:
– Fireworks!
– Food + Wine + Beer
– Bouncy House
– Rock Climbing Wall
– Fire Jugglers
– Face Painting
– Craft Vendors
–Live Entertainment
More details to follow.
August 2019
Hank Williams Jr. with the Moonshine Bandits
7:00 PM
Sun, Aug 4, 2019
Venue:
Ironstone Amphitheatre
Contact:
Ticketmaster 1-800-745-3000
For ticket sales and information, contact Ticketmaster at 1-800-745-3000 or visit ticketmaster.com.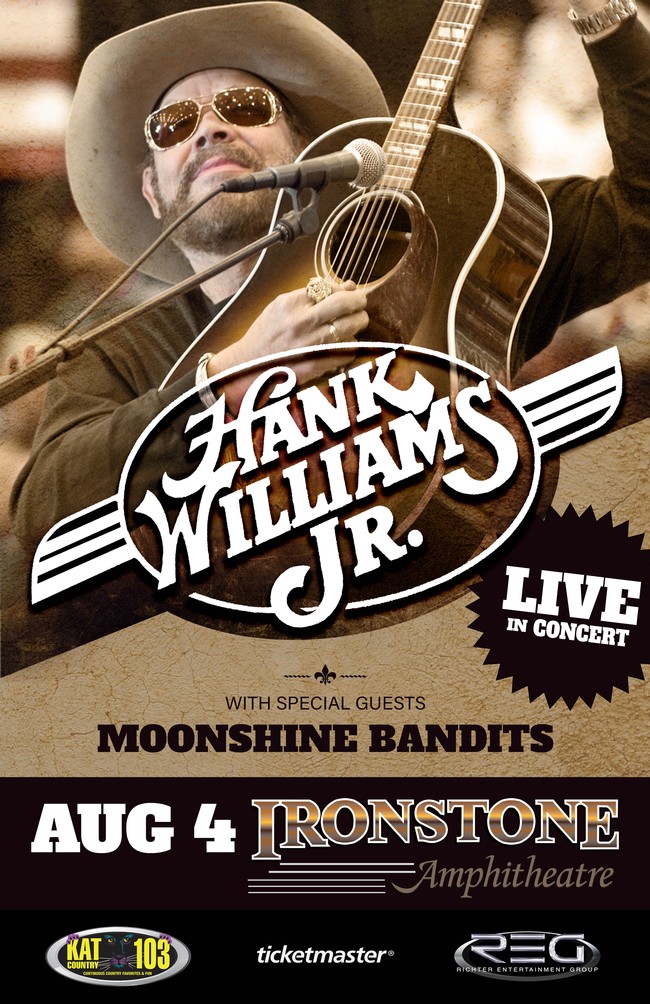 September 2019
October 2019