Wine Caverns & Breezeway
Wine Caverns
The wine caverns were the first stage in the creation of the Ironstone Vineyards, and served as our first Tasting Room.
In 1989, the Kautz family assembled a crew of professional miners including some of the "old timers" that had worked the early gold and gem mines. They blasted, picked, and shoveled their way through 10,000 square feet of limestone and schist rock to form the wine caverns. The project took ten months to complete and on many days the miners would only make two to three feet of progress. The rock was so hard and difficult, they often said it was like blasting through iron. Thus, our name "Ironstone Vineyards."
The caverns maintain a year-round temperature of 60 degrees Fahrenheit. Combined with the 70-percent humidity provided by the natural spring waterfall inside the caverns, the conditions are ideal for wine aging. The constant temperature prevents the barrels from expanding and contracting — thus leaking wine — and the humidity minimizes evaporation.
The caverns hold a maximum of 1,500 French and American oak barrels which each hold sixty gallons of wine. The beautiful wooden doors that grace the entrance to the caverns and the breezeway, as well as the tasting room, are made from 100-year-old redwood fermentation tanks from the Di-Augustini Winery in Plymouth, California.

In addition to wine aging in the caverns, the caverns themselves are also aging! Although they have been sprayed with 6 inches of gummite to prevent erosion, the caverns age naturally creating stalactites, stalagmites, and other geological formations that are easy to spot as you tour through the caverns.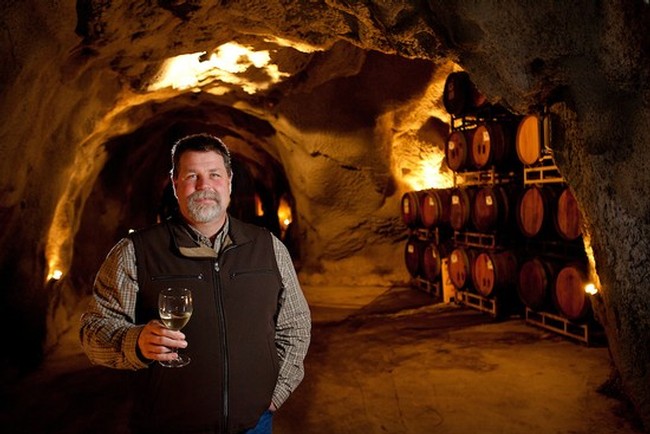 Breezeway
Nestled between the barrel filled caverns and the large stainless steel tanks, is a unique working winery area that feels much more like a movie set complete with lush, flowing waterfalls and impressive wood cavern doors.

Due to the proximity of the actual winemaking production, this large, covered, semi-outdoor space is truly an exciting location for food and wine lovers during the late summer and autumn grape crush. Built into the rock walls, in the breezeway, is a permanent stage which makes it an unusual and fun location for private parties, wedding receptions, as well as plays, music shows and other events.