Alhambra Music Room & Pipe Organ
Hearkening back to the opulent formal ballrooms of the Gold Rush Era, the Alhambra Music Room is guarded at one end by the MGM Studio Lions and graced at the other by the magnificently restored and fully operational Alhambra Theatre pipe organ. Adorned with art and antiques from the Kautz family's extensive collection, this ballroom is the pride of the Sierra Nevada region.

There is absolutely nothing within a 100-mile radius that can compare with either the beauty of the room or the splendor of the vineyard views from the fifth-story picture windows.

The 3,886-square foot room features a built-in surround-sound system and is the site for a number of regularly scheduled special events at Ironstone. These range from winemaker dinners, to silent movies which feature live accompaniment on our Alhambra Theatre Pipe Organ.

The Alhambra Theatre Pipe Organ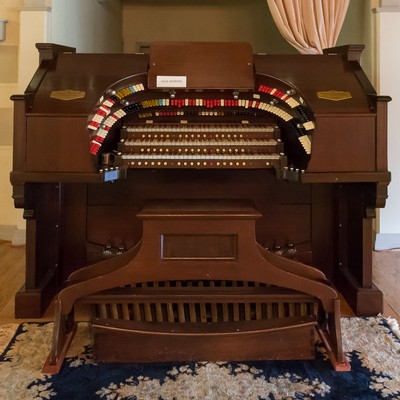 The Robert Morton Theatre Organ was built in 1927 in Van Nuys, California and was housed in the Alhambra Theatre in Sacramento, California. After the theatre closed its doors, the organ was removed and placed in the First Baptist Church in nearby Stockton.
When the church decided to remodel and dispose of the organ, Bob Hartzell purchased it to save the organ from being broken up and sold in pieces. He kept it until John Kautz obtained the organ for Ironstone Vineyards and designed the Alhambra Music Room especially to house it.

The organ is a theatrical organ, meaning it makes the specialized sounds used for old silent movies. Our organ also has 14 ranks of pipes, each containing 61-97 pipes per rank. The organ is played on numerous occasions, including special concerts, private events and our Silent Movie Nights, which feature a buffet dinner and live accompaniment on the organ.